Endorsements of the Ecosystems Scholarship Fund
The Ecosystems Scholarship Fund is endorsed by some of the nation's most respected leaders and experts in natural resources.
"In this time of unprecedented change and complexity, with so much at stake for our future, we need wise leadership in land use and natural resource management more than ever before. Our future quality of life depends on finding and developing wise new leaders to meet tomorrow's challenges. These future leaders are out there - what a shame to lose their gifts because they couldn't afford to continue their education.
As one who had to leave college for financial reasons, I know how enormous a barrier money can be. The Ecosystems Scholarship Fund is a wonderful way to ensure that these leaders can emerge, and bring the new perspectives and new ideas we so desperately need. In our efforts to secure a lasting quality of life, I can think of no better use of our resources." - Ted Sturdevant, former Director, Washington Dept. of Ecology
---
"It's been said that the best time to plant a tree is twenty years ago. The second best time is now." I strongly support the Ecosystems Scholarship Fund because today's students supported by this fund will become the conservation leaders the world will desperately need twenty years from now." - John Mankowski, Coordinator, US Fish & Wildlife Service North Pacific Landscape Conservation Cooperative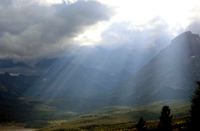 ---
"Rollie has made an enormous contribution throughout his career in the natural resources field. The public owes a lot to dedicated state employees like Rollie." - Bill Ruckelshaus, Director, U.S. Environmental Protection Agency 1970 and 1985; Chairman, WA State Salmon Recovery Funding Board 1999-2008; and Chairman, Puget Sound Salmon Recovery Council
---
"Educating the next generation of environmental stewards is essential to assure the investments we've made over the past 50 years were not in vain. I have been blessed with having a career that I love in natural resources. As Teddy Roosevelt once said "Far and away the best prize that life has to offer is the chance to work hard at work worth doing." My hope for the next generation is that they have the chance to find work that they are passionate about. This scholarship program will give students an opportunity to find that passion outdoors." - Kaleen Cottingham, Director, WA State Recreation & Conservation Office
---
"It is my pleasure to add my voice of strong support for the Ecosystems Scholarship Fund. The future of maintaining healthy fish and wildlife resources is tied to making decisions based on sound science. We all know that the high cost off education can create an obstacle to inspiring scientists of the future. Investing in these individuals' educations and creating opportunities for them to pursue their dreams of working in the field of natural resources will pay great dividends to us and future generations. Please join me in supporting the Ecosystems Scholarship Fund." - Phil Anderson, Director, WA State Department of Fish and Wildlife
---
"Mr. Geppert, Thank you for your many years of public service in the management of Pacific Northwest natural resources. Your contributions and commitment to the education of future natural resources professionals is commendable.
"Opportunities like The Ecosystems Scholarship Fund are a positive step for students seeking assistance in a natural resource and land use planning education and career. I encourage students and donors to examine this and similar opportunities as they plan future endeavors, and will also encourage Pacific Northwest Region Forest Service college recruiters to identify and highlight this and similar opportunities as they visit college campuses." - Jim Peña, Pacific Northwest Regional Forester
---
"I appreciate your hard work and dedication to the conservation of our natural resources. Best of luck to you and your project." - Curt Smitch, Director, WA State Department of Wildlife 1988-1993
---
"Invest in a future that includes protecting our region's air, water, land, fire and wildlife by supporting the Ecosystems Scholarship Fund." - Peter Goldmark, Commissioner of Public Lands, WA State Department of Natural Resources
---
"This scholarship opportunity will provide for future professionals in assisting that our natural resources will be cherished destinations with natural, cultural, recreational, artistic and interpretive experiences that all will enjoy, appreciate and proudly support." - Don Hoch, Director, WA State Parks and Recreation Commission
---
"A very worthy idea and program." - Ralph Munro, WA Secretary of State 1980-2001
---
"I am proud to support the Ecosystems Scholarship Fund. Society needs trained professionals to conserve our natural resources and wisely use those resources." - Martin Raphael, Team Leader and Senior Scientist, US Forest Service Forestry Sciences Laboratory
---
"The wisdom or folly of today's decisions becomes the consequences with which all generations must contend." - Chris Maser, Author and Lecturer, Social - Environmental Sustainability
---
"The Ecosystems Scholarship Fund helps nurture the next generation of resource conservationist we need to solve complex natural resources problems." - John Dodge, Columnist, The Olympian Newspaper
---
"Rollie Geppert dedicated his long and distinguished career to sustaining healthy ecosystems that people, communities and our economy depend on. Now, he is dedicating his life's work to supporting the education of new generations of natural resources professionals through the Ecosystems Scholarship Fund. It's important work, worthy of our support." - David Workman, WA State Government Executive Manager